You choose a product –

and get all the expertise

of TER Chemicals
TER Nordics assortment consists of a wide range of chemical raw materials, speciality chemicals and food additives. We have been convincing our customers for years with guaranteed quality, stable prices, transport-friendly packaging and punctual delivery. Do you need advice on the selection of chemicals and components or on product formulation? We are there for you. You can find our solutions for the respective product area by clicking on the corresponding symbol.
Food
The house special: your long-term success in the foodstuffs market
Food
The house special: your long-term success in the foodstuffs market
Do you operate in the area of rapid, healthy cuisine? We are your ideal partner for raw materials and manufacturing supplies. With TER Chemicals, the food industry has access to a large range of raw materials that can be delivered flexibly. From vitamins to preservatives and flavorings, right through to sugar substitutes. We are also able to cater to the rising demand for natural superfoods and diet supplements with high proportions of vitamins and nutrients. We are able to offer these not only in conventional, but also certified organic quality. Bound by the ideal of "Responsible Care", we also support you in the utilization of profitability reserves – and are by your side with expert knowledge in the development of new products.
Contact Person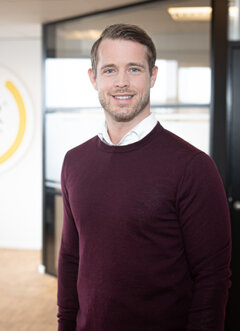 KasperMortensen
Head of Sales
Life Science
Contact Person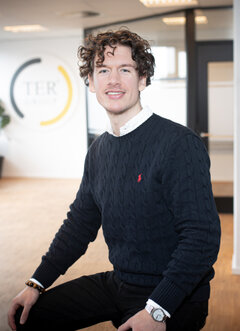 Food additives
Waxes
Emulsifiers
Additives
Alcohols
Colorants
Filter Aid
F.A.Q.
The food industry is experiencing rapid growth due to a few reasons. On the one hand, our fast-paced world leaves us with less and less time for preparing healthy and balanced meals. On the other hand, food additives can significantly improve our diet so that it is not affected by our busy lives.

Additives are able to not only enhance the look and taste of certain foods, but also extend their shelf life, thus making food much easier to store, transport and process.
TER Chemicals offers a wide range of additives for the food industry and is a one-stop source of raw materials for food manufacturers. What's more, as a supplier, we have the flexibility to respond to increasing demand.

Due to a growing interest in organic food and natural ingredients, we also supply food additives that are certified organic. These products contain high levels of vitamins and other nutrients and are an answer to consumers' rising demand for superfoods.

Our product range includes the following food additives:

amino acids
gelatin
fruit acids
preservatives
vitamins
coloring agents
proteins
flavouring
thickening agents
sugar substitutes
artificial sweeteners
and much more

We also supply other ingredients and substances that can be used in the food industry, such as waxes, oils, bulking agents, filter aids, cellulose ether and glycerin.

Our products comply with all relevant statutory requirements and EU regulations, meaning they are high-quality ingredients that are safe to use in foods.
Food manufacturers make use of our additives to enhance the color, flavour and taste of certain foods. A food ingredient can be either natural or artificial. Moreover, they are divided into two categories: direct and indirect food additives. Direct additives change the taste and texture of food products, while indirect additives have an effect on a product's shelf life and thus enable packaged foods to be offered in shops.

All these food additives perform different functions. For instance, vitamin C is an antioxidant that is used to prevent oxidation in foods. As such, vitamin C is a natural preservative with additional hidden health benefits.

Starch can be used as a bulking agent to increase the volume of foods without affecting their taste. However, if you instead wish to improve the taste of your food products, you can add flavorings, sweeteners or coloring agents. Emulsifiers allow you to create a mixture of water and oil, which is useful in the manufacture of products such as mayonnaise or ice cream. You can make use of artificial preservatives to inhibit the growth of bacteria or molds so that foods do not decompose or spoil so quickly.

Besides the abovementioned effects, certain substances can be added to modify the texture of foods. As an example, thickeners or stabilizers (such as gelatin) may be used to firm up foods and increase their viscosity.
First and foremost, our job as a supplier is to ensure that you have all the food additives you need to manufacture your products. Our many years of experience and expertise also mean that we can assist you in finding the right additives and determining the optimal dose for your food items.

Furthermore, TER Chemicals is able to advise you on which emulsifiers and flavorings you can use to improve the quality of certain foods. We also have a good understanding of the viscoelastic properties of foods and know which additives can be used to optimize them.

Are you looking to improve the quality of your food products using the right additives? Or do you maybe wish to develop new products that boast exceptional taste, optimal texture and a long shelf life?

Feel free to talk to us about any questions you may have. You can benefit from our deep expertise and experience in many industries like bakery, confectionery, dairy, savoury, beverage ingredients and many more. We promise to find the right solution for you.
One of our areas of expertise is food additives - both artificial and natural. As a food ingredient distributor, our company is dedicated to providing our customers the best possible service. All our food additives are stored and transported in compliance with current regulations. Nevertheless, we are still able to ensure that your order gets delivered quickly. Our goods always take the shortest possible route from our food ingredients manufacturer to us. As a result, your orders can be shipped within a short time.

Please do not hesitate to approach us if you have any special requests. Our experienced and knowledgeable staff are here to assist you with any questions you may have. As a food additive supplier, we have many years of experience working with the food industry and will be more than happy to share our knowledge with you. Feel free to talk to us!